Commercial Property Visualisations
WANT TO DISCUSS A PROJECT?

CALL US:

0333 567 1485

EMAIL US:

wow@northmadestudio.com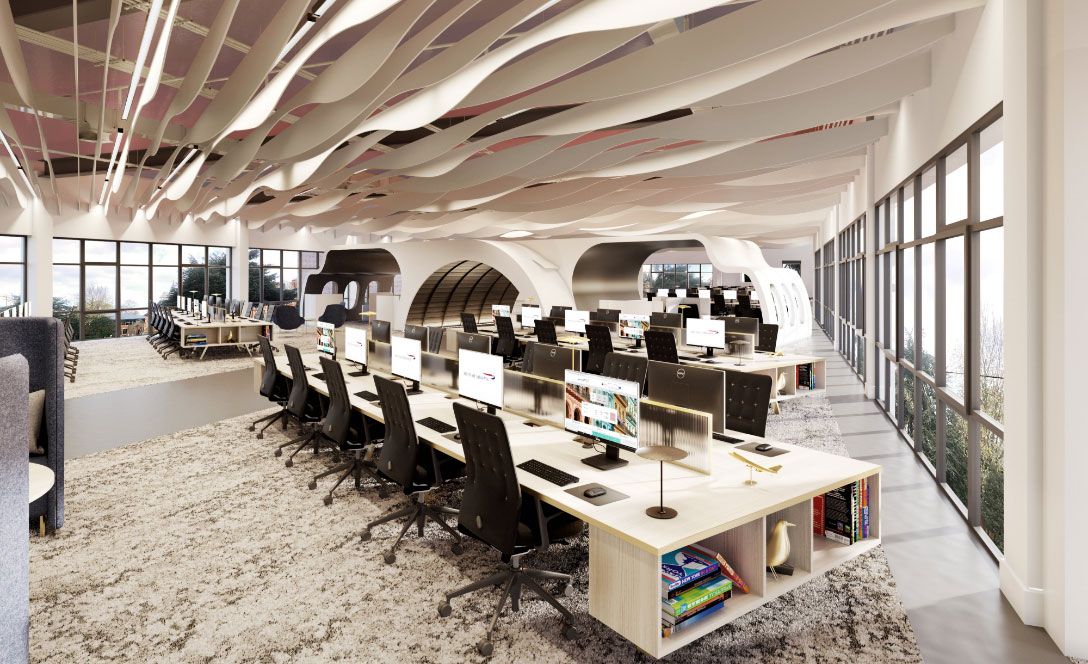 At North Made Studio we don't just create memorable CGI visualisation for residential property developments, we also offer our high quality architectural visualisations for commercial properties. Often overlooked by many CGI studios, commercial property visualisations are one of North Made Studio's most successful services/products.
Our commercial property visualisations can be created true-to-scale and showcase correct materials and location placement. These factors can be hugely beneficial in the early stages of a commercial property development, as being able to show the intended space in detail can help with gaining planning approval massively. Often our commercial property visualisations incorporate the use of drone photography and photomontage techniques to place the commercial building in the correct location, referencing all surrounding buildings, landscapes, etc. Doing this can help to greatly enhance the overall aesthetic of the visuals, taking them beyond simple commercial units or bland office spaces.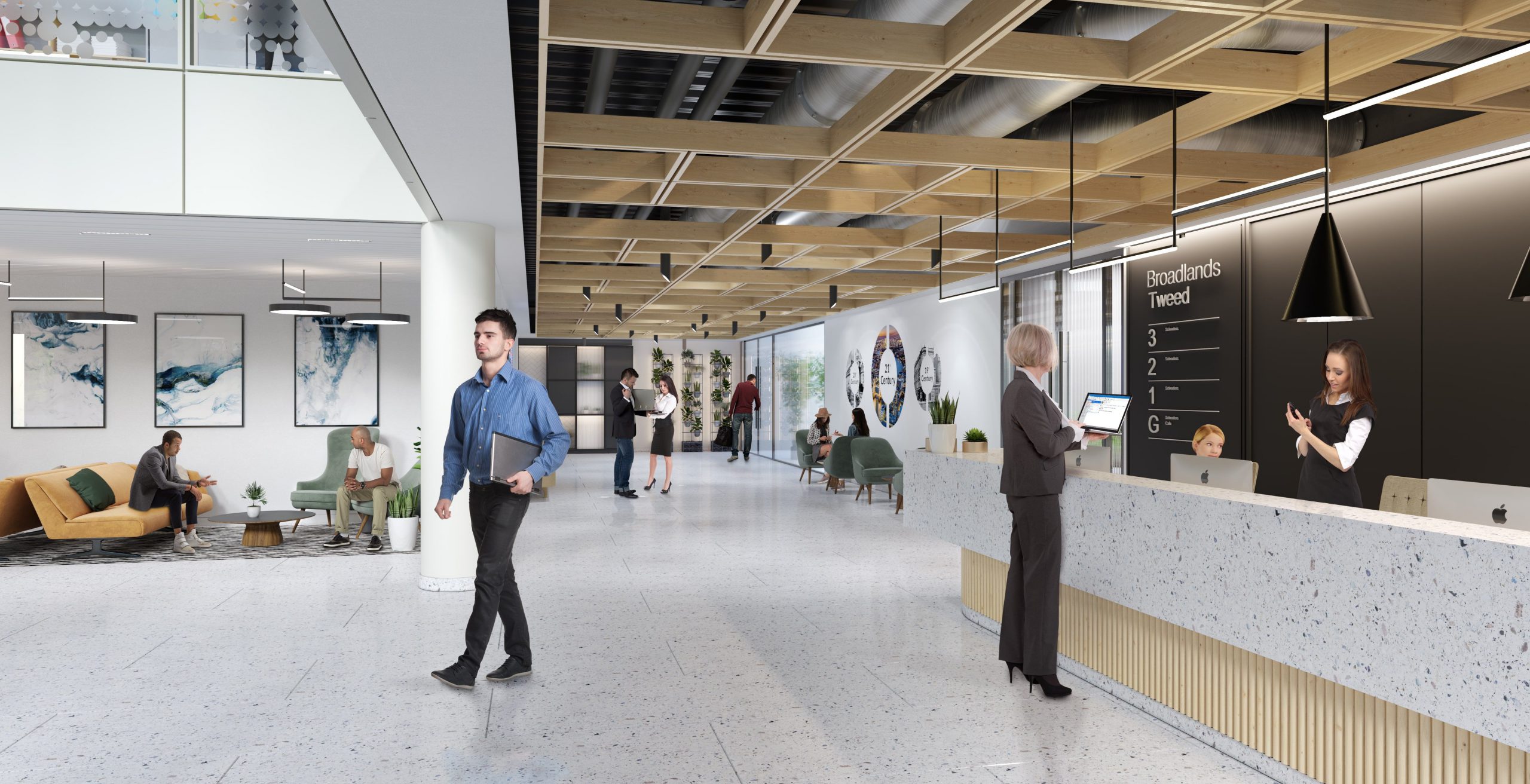 Interior property visualisations
Our commercial property visualisations don't just stop at the exterior, we also offer a complete and comprehensive design service for the interior visualisations of commercial developments. Many of our clients need to show the positive aspects of a new commercial building to potential buyers or tenants. With our interior visualisations North Made Studio can showcase exactly how the interiors of a new commercial property development will look prior to construction/completion (in Cat A or Cat B guise). Ensuring potential tenants or buyers can visualise the space and make an informed decision to purchase/sign a lease.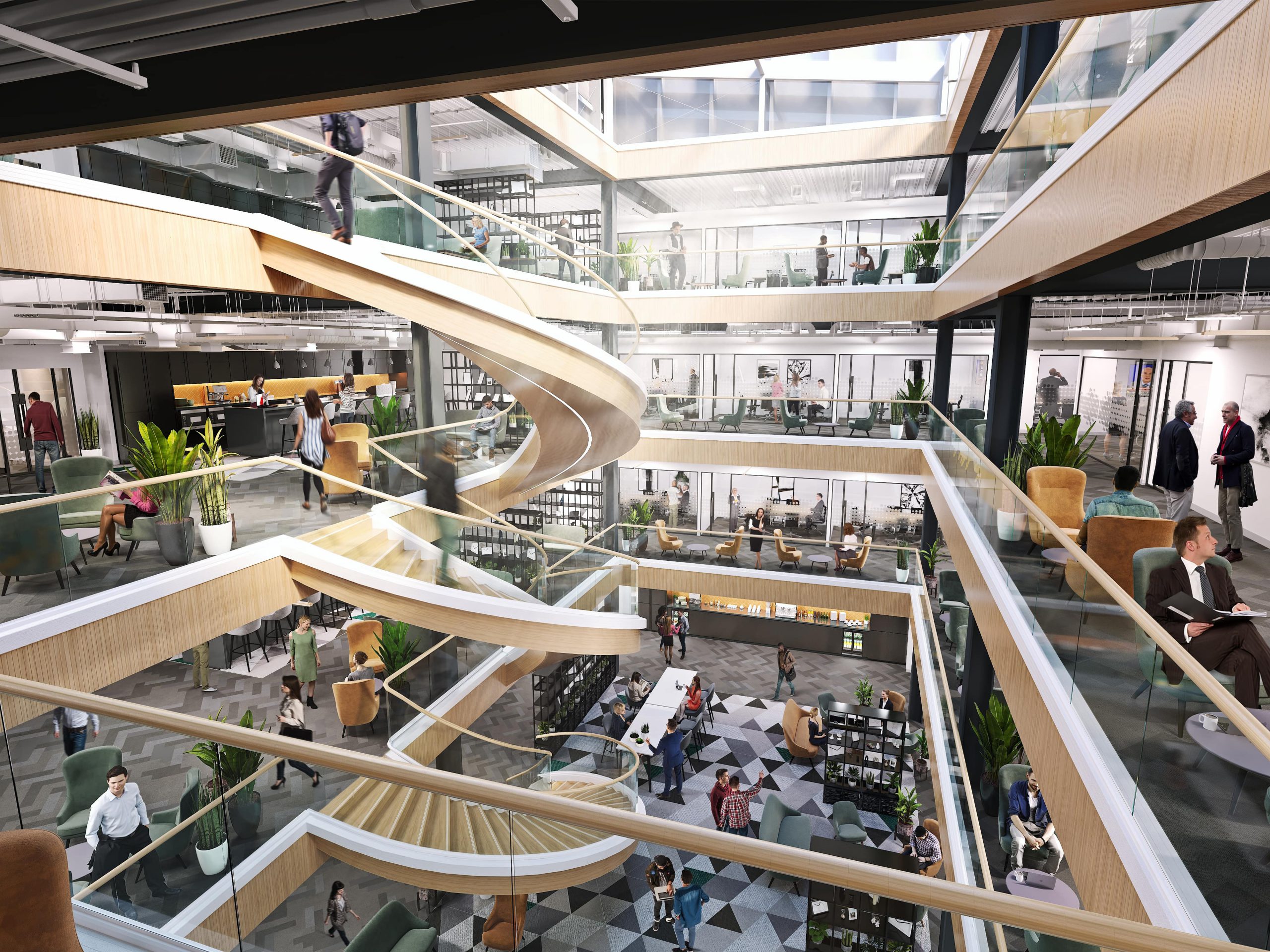 Renovation projects
Many of our clients utilise our interior visualisation services to exhibit intended renovations to existing commercial spaces. Upgrading office spaces, boardrooms and reception areas of head offices or headquarters. Many of our big clients do this as it works well to elevate their brand identity and improves their staff's relationship with the spaces they work within.
Some of our most popular commercial property visualisation sectors include:
Commercial units (new & renovation)
Office spaces (new & renovation)
Reception areas
Outdoor communal areas
Car parks
Airports (private lounges)
Lobby and waiting areas
Boardrooms
Meeting rooms
Retail spaces / Shops
Gyms

Visualisation tendering support
We often produce commercial property visualisations for interior designers and commercial fit-out companies. These types of companies regularly need high quality visualisations to submit tender bids for potential projects. Our high-end interior and exterior visualisations can give them an ace card when it comes to winning tenders. Being able to fully communicate their intended interior design or fit-out via the use of CGI visualisations can help to put a tender application 'head & shoulders' above other submissions. Resulting in a relatively small investment on CGI visuals guaranteeing them the project and the profits and prestige that are associated with it.
Retail spaces
The commercial property visualisations can also be utilised on retail spaces. Shopfronts can be showcased in situ on high streets and in malls/shopping centres via the use of photomontage visualisations, and user experience and interior layouts can be tested in a visual space before any construction or fit out takes place. Giving the potential to make significant savings, as ensuring the retail space will work as intended for the users/customers is often a key factor to the success of a retail space. 
The retail space visualisations can also be used for marketing purposes, high end visualisations can be used the drum up interest and excitement about a new shop opening. And for investments the retail spaces can be promoted for their intended use (Cat B) without the need to full fit them out, we often do this for large scale spaces such as gyms and leisure complexes. These retail spaces can be created in 3D CGI and populated with gym equipment, lockers, reception desk, etc. These spaces can be further populated with 3D modelled people, showing what the intended commercial/retail space could look like when finished and open to the public.
if you have an upcoming commercial property development of tender please feel free to get In touch with us at North Made Studio. We work on all types of commercial property visualisations, small and large project are welcome.
Check out these similar projects.